I was sent this item for free to review by Furbo. This is my honest review.
There are some impressive devices designed for dogs that you can buy right now, but few come close to being as innovative and fun – not to mention useful – like this one, the Furbo Dog Camera. No, it's not a camera that your dog gets to use – at least not directly – but what it is, is a very impressive device that you can use to keep track of your dog when you leave it in the house, and more besides.
What is so special about the Furbo? Well, to begin with, if you worry about what your dog is up to when you're not at home, this little device can show you. It can also do a lot more than that, and can even throw treats for your dog when you are not around!
Designed especially for dogs and dog owners, and proving very popular indeed, let's have a closer look at what the Furbo is all about, and why you might just want one.
What is the Furbo?
As we have briefly explained above, the Furbo is a camera, but it's also a lot more. Here's a list of its features:
720p Camera
Night Vision
Treat dispenser
Two-way Audio
Wi-Fi
Android and iOS apps
So, you might be wondering why you need two-way audio? We'll come to that in a moment, but first, let me give you a little insight into my experience of using the Furbo with my dog, Luna.
Some Points of Interest
My dog, Luna, is a Cockapoo, and while we have no concerns about her barking when we leave her alone in the house – which is generally for around 4 hours a day and rarely any more – when I saw the Furbo I thought it would be interesting to see what Luna gets up to when we're not in!
I read up on the item and realised that it uses a tried and tested format – that of your usual home security camera – as its basis, but it's where the innovations come into play that it began to interest me. First impressions on getting it out of the box: this is a high-quality item, very nicely designed and not at all flimsy like some products that look the part but don't deliver.
The set-up instructions are easy to follow – it takes just a few minutes to get going – and I was interested in how the treat dispenser worked most of all. At the front of the unit and approximately in the middle is the dispenser, with the camera just above it. You take off the neat wooden lid – a nice touch of class – and fill your pets favourite treats to the indicated level, and you're ready to go once you have downloaded the app for either your Android or iPhone device.
We decided to try it out, so followed the set up instructions – those on the app are very simple and it is cleverly designed to be easy to use on the move – and had some practice while we were there.
Luna's View!
Now, Luna can be a nervous dog, especially when there's something new around, and at first was a little concerned about the Furbo. I followed the recommendation to put it on a shelf – even a dog like Luna will discover it's full of treats if placed on the floor – and she soon liked the idea when it kept giving her treats! So far, Luna was very much in favour of the Furbo! Have a look at her here, making friends with her new toy!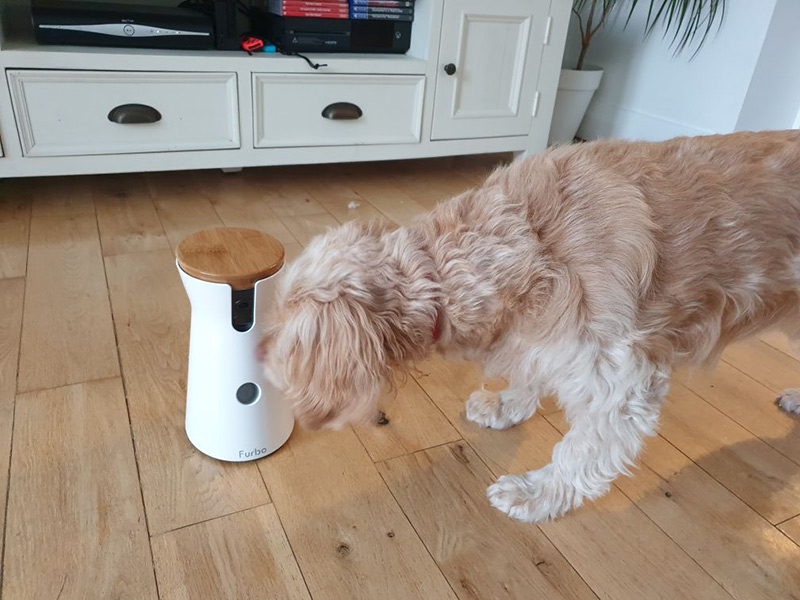 I recommend that the first thing you do when setting it up, is check out the tutorials on the app; this makes things a lot easier to understand! We left Luna on her own – she usually settles in her chosen place and we have had no complaints of barking – and went out to test the Furbo from the local pub.
We were pleasantly surprised at how good the video was, and was not surprised to see Luna settled on the sofa, with no intention to move until we sent her a treat to test things further. You do this by sliding a button on the screen of your smartphone, and the Furbo dispenses either one or a few treats, depending on the size you use.
Luna was very impressed with this and we watched her get her treats and then climb back onto her chosen spot. What you can also do is use the audio to record a message – a 'call to treat' if you like – to train the dog to go to the right place when treats are about to be given out; all very impressive so far. Moreover, from early days, you can use the Furbo dispenser to feed your dog healthy vegetables such as celery or carrots though not every dog will be a fan of those.
Bark Detection
While the video quality is excellent, the audio quality can be described as decent. In other words, it's not brilliant, but it is good enough to be able to summon your dog. What we wanted to try with Luna was the 'bark detection' option.
This is one of the main selling points of the Furbo: you set bark detection on, and if your dog begins barking or makes a noise, you get a message directly to your phone or the device you are using. You can then check-in, have a look at what is going on, and talk to your dog – or give it a treat or two – to calm it down!
This is a great feature, and while we were out we did get a bark notification, so checked in. Luna was quickly returned to her space – when we returned the post was on the mat, so we concluded that was what had disturbed her.
The bark detection function comes with a number of sensitivity settings, and it is worth playing around with as we found it to be remarkably sensitive even on the lowest setting, and you don't want to be notified at every slight noise! A big thumbs up for this feature, though, as it is perhaps the one that most people will justify buying the Furbo for.
A Few Pros and Cons
Before we sum up, here are a few of the pros and cons we found with the Furbo:
Pros:
Reliable treat dispensing
Excellent video
App response is brilliant
Ease of use
Bark detection very useful
Cons:
It's not cheap
Bark detection is very sensitive and needs careful setting
Audio not great
Wide angle camera needs careful positioning
Should You Buy A Furbo?
We all love our dogs, and the ability to see and hear what they are up to when you are not at home is something that will interest you. It is not a cheap device by any means, but it is high quality, easy to use, reliable and well-designed, and does the job it is meant to do.
For the added peace and mind of being able to know what your dog gets up to when you're not in, and also for added security, we recommend you check out the Furbo. For not much more than a quality home security camera, this device is certainly worth considering.