One of the main reasons that we own dogs and love them so much is companionship. They are our best friends and part of our family. We enjoy every minute we can spend with our furry companions. To that end, we like to take them wherever we can, whenever we can. If we could take them everywhere, we would (even in a dog pram).
Packing your precious pooch into the car is probably a regular occurrence. As we just stated, we would take them everywhere if we could, but how much are you thinking about safety? We want them with us, they want to come with us and how many times does that mean they jump in and have the freedom of the car as you drive? Do they snuggle on your lap? Are they sitting alone on the seat next to you?
Best Dog Car Harnesses in the UK
A breathable, mesh chest vest harness. Elastic safety belt to help absorb impact. The harness is designed around the body and shoulders so that no stress occurs around the neck. A quick release button helps with ease of use and in case of emergency. The harness connects with a regular lead to double up as a walking harness when needed. There are 4 buttons on the harness strap to allow for different adjustments for a perfect fit. The harness comes in 6 different colours and 4 different sizes. Size and fit are as follows;
Extra Small — Neck girth (11-14 inch), Chest girth ( 15-17 inch)
Small — Neck girth (15-18 inch), Chest girth (18-21 inch)
Medium — Neck girth (19-26 inch), Chest girth ( 25-34 inch)
Large — Neck girth (20-28 inch), Chest girth ( 26-36 inch)
A simple, black, adjustable seat belt that connects the dog's harness to your car's seat belt. 32cm long expanding to 56cm. Clips onto the D-ring of the harness. Can also be clipped onto your dog's collar and used as a lead or lead extension if you so wish.
Unique Y-shaped front to the harness allows for perfect fitting to the chest. RAC designed from the road safety experts. This harness comes in 5 sizes. Small, medium, large. Extra large and jumbo. Easy to adjust with strong buckles. A very durable design with soft padding for comfort. The harness doubles up as a walking harness if needed. Fully reflective for safety. Helps 'be seen' at night.
High quality and comfortable, designed with a fully padded vest in breathable fabric. A sponge padded chest plate offers additional protection. Durable and light. A premium. Stainless steel snap hook allows for reliable and easy connection and release. The harness comes in 6 colours and doubles up as a walking harness when needed. Four sizes are offered and described as follows;
Small Size. Neck Girth: 8.26″ – 10.62″, Chest : 15.35″ – 17.71″
Medium Size. Neck Girth: 10.24″-14.57″, Chest : 16.93″-20.47″
Large Size. Neck Girth: 13.38″-18.89″, Chest : 19.3″-24.4″.
Extra Large Size. Neck Girth: 17.3″-23.6″, Chest : 25″-32.3″
Y-shaped, padded chest harness offers protection and comfort. Design takes any strain away from the neck of your dog. Durability thresholds are tested and stated. The harness system comes with an adjustable safety tether and two, high grade aluminium clips (carabiners). It comes in 4 sizes and 2 colours. A lightweight and comfortable option.
Not the actual harness, but a seat belt restraint designed to keep your dog secure during car rides. It attaches to the D-ring of your dog's harness and keeps them in one place while allowing them to sit or lie down comfortably. Fits any size dog or harness. Stainless steel D-rings, high quality, safe and durable.
This is also not a true harness, but a great pet, booster seat which helps your pooch travel in safety and comfort. A safety tether keeps your dog secure in a padded, waterproof booster seat. Built in adjustable straps for easy installation in most vehicles. It has a zippered, front compartment to store treats, poop bags or whatever else your best friend needs for the ride. Available in 6 stylish colours. Size is approximately 40cm x 30cm x 25cm.
Do you need a harness with a handle? We have picked out some of the best dog harnesses with a handle.
Think About the Consequences
Let's face facts. In an accident, your dog, if unrestrained can become a missile that will be launched at the windshield at the point of impact. At the very least, your dog is vulnerable and can easily be harmed or injured during a crash. Sitting on your lap, your dog simply becomes a form of crash-cushion if an impact occurs. Think about what damage the air bags in your car could do to that furry face. Not good.
Your best friend could even cause the crash. They are a happy, furry, lively distraction, guaranteed to take your eyes off the road many times during a trip. A small dog can easily end up on the floor by your feet and if you are the driver, this means potential disaster around the pedals.
So, having painted a pretty grim picture on purpose, have a good think about a dog car harness and how it could prevent all the above from happening. A small investment could save the life of your dog and be one of the best things you have ever spent money on.
At this point, it is also worth mentioning that a walking harness is usually not designed as a car harness. A harness specifically designed for use in the car absorbs and spreads the extreme force experienced in an emergency stop. It protects you and your pet. A walking harness does not. Do not confuse the two. Before we review a few of the products out there, let's think about what you should consider when looking for the best dog car harness.
Crash tested? Read the details and the claims that a product boasts. You want to know what kind of tests it has undergone.
RAC approved? A good sign.
Are the materials all approved and are they padded?
What are the weight and size recommendations and how many points on the harness can be adjusted to 'custom fit' your funny shaped furball?
Ease of use. How easy is it to put on and take off? We all know that if it is tricky to use, we might just take the easy option and not use it.
Does it double up as a walking harness when your pooch hops out of the car?
What's Rule 57 of the Highway Code?
A personal perspective
We all love taking our dogs out in the car. Some people claim dogs love all the smells that come in from the window – certainly, my Jack Russell does – and others say that being driven in the car is like hunting to a dog. Whatever the reason, most dogs love being in cars. For years my dogs have sat next to me on the front seat while I drive them to the seaside, or to the park or even just to the vets. They have always loved it. But recently I read an article that made me sit up straight and do something about the lack of restraint in my car.
Here in the UK, there are serious fines if you are found with a pet unrestrained in a car. The rule is Rule 57 of the Highway Code and we pet owners need to be aware of it. The fines are very expensive, at £2,500 plus costs. I think for most people that is a lot of money and it would be a fine most people would struggle to pay. What is worse is that if you do have an accident in the car with your pooch, your insurance is null and void. So you end up having to pay for the other person's repairs if repairs are possible. You will end up dealing with the other persons' insurance company and I am sure they have some hot shot lawyers to make sure they get the most out of your hard earned cash.
Needless to say, I was horrified when I found out and immediately went online to find some sort of harness or restraint that would be suitable for my dogs.
Harness Vs Lead
That's where things got a bit sticky. Is a harness better than a lead? My mother loops the lead handle round her seatbelt and that is that. I just don't think that is enough for my two JR's. I wanted something that is going to hold them in that car, safe and sound.
Some people push the seatbelt through the dog's collar and clip it in but I have visions of dogs with broken necks attached to the car. Not good. I honestly cannot see that a dog with a lead attached to the seat belt is safe in a crash. The dog would be flung to the end of the lead and then be wrenched back across the seat, it would be really slammed around. If you just want your dog to behave in the car, and you aren't worried about his health if you do an emergency stop, then sure, a lead will keep them restrained. Probably a lead is enough to keep your insurance and to abide by the law. But it definitely isn't enough to keep your pooch safe and sound.
However, with a harness, there is much less room to manoeuvre. My dog's harness has two D rings on the back, and a loop made of seat belt material for the seatbelt to go through. The chest part is padded comfortably. My dogs look great in their harnesses and they can sit separately in the car, either both in the back or one in the front one in the back. Because the seatbelts have inertia reel, the dogs won't get flung far on impact. The harness holds them steady while I am driving so they cannot get into high jinks like trying to climb onto my lap. And I feel great because I know that my dogs are safe, they won't get hurt in a crash (or they are less likely to) and my bank balance is safe from that £2,500 fine.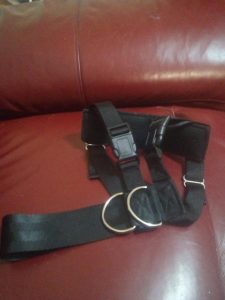 I went to my favourite place, Amazon, and looked at some reviews. There were lots of different ways to restrain dogs but I noticed there were harnesses available from RAC. Well, they should know what they are doing. Odd thing was, the newer RAC dog harnesses weren't getting great reviews, but the older style was. So I picked some older style harnesses and ordered them. They do come up a bit small, so I ordered ones with a King Charles Cavalier on the front, size medium and they have turned out to be a great fit for my two. In fact, for my larger Jack Russell, she has to have the middle strap at it's longest possible length.
I thought the price of the RAC Car Harness For Dogs was very reasonable, and they look hard wearing and resilient. I would buy a new harness if I was in a car crash with my two, I know probably they would be fine but it isn't something I want to take a risk with. If you throw a child car seat away when it's been involved in an accident, then why wouldn't you do the same with your dog harness? It seems sensible to me.
We hope we have helped you decide which is the best dog car harness for you and your dog. If you have any comments or suggestions please leave them in the comments below.
Finally, if your pet seems to get agitated when cars go by, it is worth getting it a car-suited dog crate.